Air Conditioning and Plumbing Services
24/7 Emergency Service
Servicing Dade, Broward & Palm Beach
About Us
Mission Statement
Air Conditioning For All Inc., is a private company dedicated to providing Commercial and Residential customers with HVAC Services. To this end, A/C For All Inc., offers high quality, efficient and reliable services to ever-increasing number of customers in Miami-Dade, Broward and Palm Beach.
Our Principle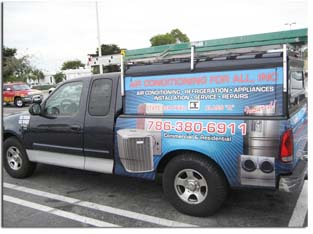 A/C FOR ALL, will uphold the highest ethical standards in all its operations.
A/C FOR ALL, customers satisfaction is the highest priority.
A/C FOR ALL, will deliver the best solution for each project based on its skills and experience.
A/C FOR ALL, will take all appropriate steps to protect the environment.
Our Goal
We aim to become a reliable contractor of engineering and provider of service in HVAC industry.

We can respond quickly 24 hours a day, seven days a week we are Licensed and Insured.

Just Give Us a Call Today!

Licensed and Insured. All work is guaranteed.
We work with all types of Air Conditioners, Refrigeration and Appliances brand and many more.