Air Conditioning and Plumbing Services
24/7 Emergency Service
Servicing Dade, Broward & Palm Beach
Commercial Services
Air Conditioning For All Inc., provides commercial services and installation for your heating, ventilation and air conditioning systems in Miami-Dade, Broward and Palm Beach Counties. We also can perform preventive maintenance service on your commercial systems, monthly or quarterly, depending of equipment's conditions.
Advantages of preventive maintenance
Extend equipment life
Optimize efficiency to reduce down time
Help to manage costs to maintain comfort
Provide a more comfortable indoor environment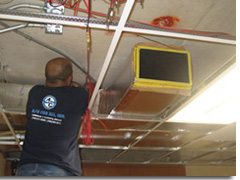 When any of your system is broken, you want it fixed FAST! Our trained professionals will have your system repaired in no time, Air Conditioning, Refrigeration, Heating, Cooling and Appliances. We offer same-day service.
Just Give Us a Call Today!
Why A/C For All?
Commercial & Residential Services

24 hour emergency service
State licensed and insured
All work guaranteed
Competitive prices
Same day response
Service all major brands
Experienced technicians
FPL Participating Independent Contractor

℠

Servicing Dade, Broward, Palm Beach

Air conditioner maintenance & repair
Appliances maintenance & repair
Heating/cooling maintenance & repair
Refrigeration maintenance
Air conditioner services
Appliances services
Air conditioner installation
Test & inspection
Heat pump systems
Chillers maintenance & repair
Cooling towers
Fan coil units
Plumbing service & repair
Plumbing Repair and Services
We offer complete plumbing services in your area that will provide the best service no matter how difficult the job. Contact us today at 786-380-6911 for a FREE phone estimate.
Licensed and Insured. All work is guaranteed.
We work with all types of Air Conditioners, Refrigeration and Appliances brand and many more.