Frequently Asked Questions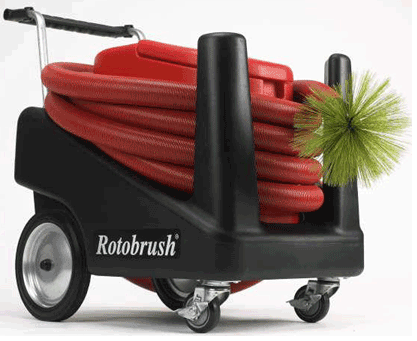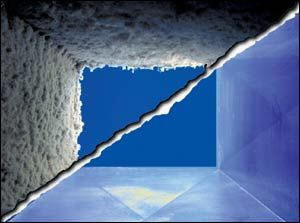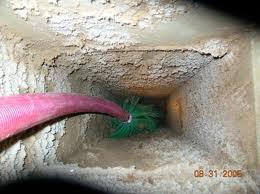 What is air duct cleaning?
Duct cleaning generally refers to the cleaning of various heating and cooling system components of forced air systems, including the supply and return air ducts and registers, grilles and diffusers, heat exchangers heating and cooling coils, condensate drain pans (drip pans), fan motor and fan housing, and the air handling unit housing.
If not properly installed, maintained, and operated, these components may become contaminated with particles of dust, pollen or other debris. If moisture is present, the potential for microbiological growth (e.g., mold) is increased and spores from such growth may be released into the home's living space. Some of these contaminants may cause allergic reactions or other symptoms in people if they are exposed to them. (IAQ)
Do I need to clean my ducts?
Maintaining clean heating, ventilation and air-conditioning systems is an important part of sustaining acceptable indoor air quality.
Visible signs of poor indoor air quality can also appear, often in the form of dust. Dust contains dirt, textile fibers, pollen, skin flakes, residue from cleaning chemicals and household products, decaying organic matter, dust mites, bacteria, fungi, viruses and a variety of other contaminants.
Why air duct cleaning is important?
The indoor air quality issue now frequently appears in headlines and news stories in the mainstream media - and for good reason. The Occupational Safety and Health Administration (OSHA) estimates that over 30 percent - or 1 .4 million - of non-industrial buildings struggle with indoor air quality problems. The Environmental Protection Agency pinpoints the issue as one of the top five environmental health risks to the public, noting that indoor air pollutants are often two to five times higher than outdoor levels. (Maintenance Supplies).
What is Pollen?
Pollen is a fine to coarse powder consisting of micro gametophytes (pollen grains), which produce the male gametes (sperm cells) of seed plants. A hard coat covering the pollen grain protects the sperm cells during the process of their movement between the stamens of the flower to the pistil of the next flower.
What is Dander?
Dander is material shed from the body of various animals like cats and dogs; it may contain scales of dried skin and hair, or feathers. It is a frequent cause of allergy in humans.
The role of maintenance in improving indoor air quality is becoming increasingly clear. Inadequate duct cleaning as one of the five main causes of indoor air quality problems.
What is Dust Mites?
He house dust mite (sometimes referred to by allergists as HDM) is a cosmopolitan guest in human habitation. Dust mites feed on organic detritus such as flakes of shed human skin and flourish in the stable environment of dwellings. House dust mites are a common cause of asthma and allergic symptoms worldwide. Some of the gut enzymes (notably proteases) produced by the house mite persist in their fecal matter, and can be strongly allergenic.
What is Mildew?
The term mildew is often used generically to refer to mold growth, usually with a flat growth habit. Molds can thrive on any organic matter, including clothing, leather, paper, and the ceilings, walls and floors of homes with moisture management problems. Mildew often lives on shower walls, windowsills, and other places where moisture levels are high.
Can I save money on my electric bill?
Is the air conditioning system is being forced to work harder this means that it is also demanding more energy to keep running. Energy bills will increase the less efficient your air conditioning system becomes, it is possible to reduce the cost of your energy bills while ensuring that you have clean, breathable air throughout your home.
Reduce The Risks Of Illness?
A Clean duct is clean air. Because of the potentially high level of contaminants and pollutants that are found in the air, cleaning ducts is often considered the only method of providing fresh and clean air. This reduces the risk of illnesses and medical complaints such as allergies, skin irritations, rashes, and breathing difficulties.
What is SEER?
The performance of your heating and cooling system is determined in a large part by your HVAC equipment's operating efficiency. Each 'BTU matched system' - an outdoor compressor bearing unit that matches with an indoor unit - is tested and awarded an Energy Efficiency Rating, sort of like a miles per gallon (mpg) rating for your car. The more cooling/heating a system puts out for each unit of energy it consumes, the higher rating it will receive. The higher the efficiency rating of your system, the less energy it will consume, that means lower utility bills and less of an impact on the environment.
Who Inspects Indoor Air Quality?
"Epa" - United States environmental protection agency. Great site for indoor air quality advices.
Should I use electrostatic filter?
This allows the air conditioning or heating equipment to operate at maximum efficiency while at the same time removing a high percentage of contaminants from the air.
How can I put my trust in to you guys on treating my AC/Heating system?
We are A+ rated company. 100% Satisfaction Guaranteed.
How can I pay for the service?
We accept cash, personal checks, money orders and all major credit cards.
Are you Licensed and insured?
Yes, we are a State Licensed Contractor in South Florida