Residential Services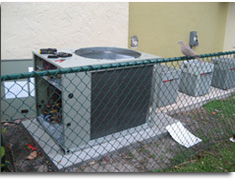 The Central Air Conditioning in Florida is the MAJOR ENERGY CONSUMER in your house. When you replace the old 10 SEER efficiency air conditioning by new 14 SEER efficiency air conditioning, you can save until 24% energy that can significantly reduce your monthly bills. This new and efficient system will make your home more comfortable and healthy. Moreover, it is safe for our environment.
Indoor air purification
A Ultraviolet Light Air Purifier sterilizes the air with a high output of UV light. It safely safely sanitizes the air as it passes through the HVAC ventilation system, destroying living airborne pathogens such as viruses, mold spores, bacteria and more. This technology is used by hospitals and food industries. A UV Lamp system can be integrated into your existing central air conditioning or heat pump. The quality of your indoor environment will be healthier and safer.
Air Duct cleaning
Maintaining a clean heating, ventilation and air-conditioning systems is an important part of sustaining good indoor air quality. An air conditioning system should be cleaned every year. We specialize in purifying and cleaning the air you breathe. The H1N1 virus can affect our lives, a simple in-house evaluation can put your mind at ease. Sanitizing, cleaning, installing U.V. lights and electrostatic filters all go a long way to help you breathe cleaner and safer air. Clean air ducts reduce the risk of illnesses and medical complaints such as: rashes, allergies, and breathing difficulties. It also removes unpleasant odors. Keep in mind, if it's in your ducts it's in your lungs.
Plumbing Repair and Services
We offer complete plumbing services in your area that will provide the best service no matter how simple or difficult the job. Contact us today at 786-380-6911 for a FREE phone estimate.